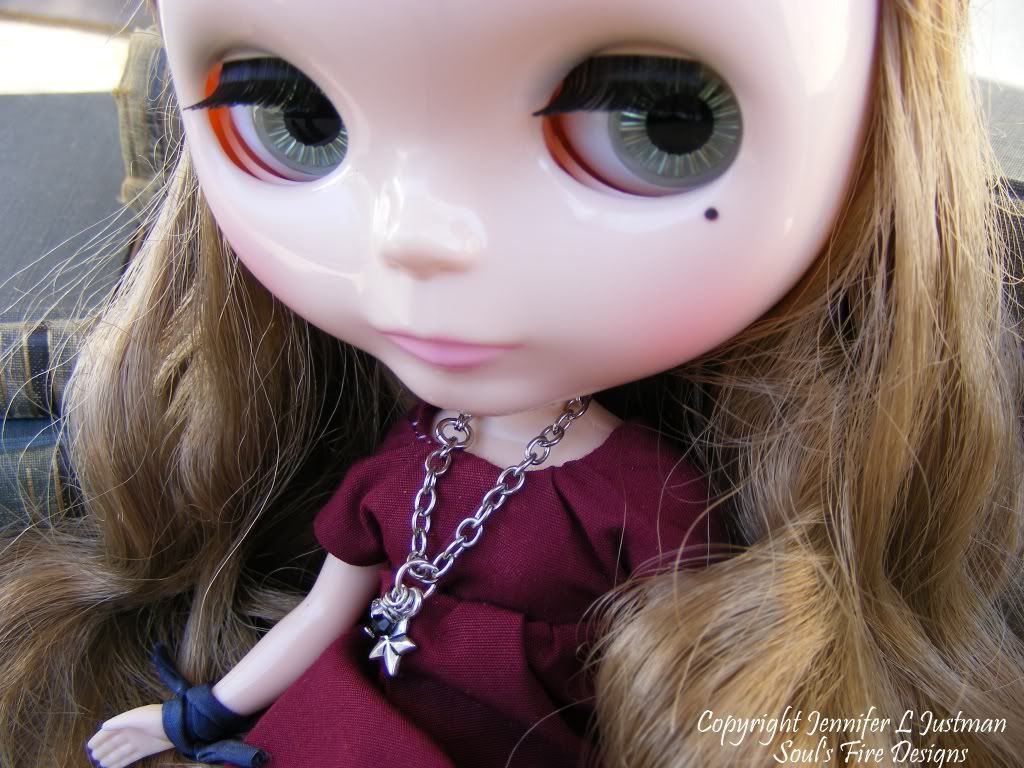 Hello! My name is Stella, or at least... that is what I go by, and I just moved to the beautiful state of Oregon. It seems to be very beautiful here, the weather has been shockingly nice for February, or so my new friend, Jenn, tells me. It doesn't phase me though, I'm from a place that has winters even colder. Where? Terribly sorry, but that's classified information. Perhaps someday... Anyway, I'm settling in, I've been here about a month now.
Jenn has taken up sewing in order to attempt to bolster my wardrobe, she warns me that she isn't very good (she was never taught really). She does promise to keep it up and get better though. So far I have two dresses she made, one of which you see in my photograph above... she's very proud of this second attempt. I'm also wearing my very own wrap bracelet she made me of the loveliest hand dyed silk! It's so soft and beautiful, she promised me others when I have new outfits to match. She also made the necklace, though that isn't mine to keep, it will be up for sale at some point (if you are interested, please do contact her). She and I have decided that making jewelry for my distant relatives seems a fun and worthy prospect to go alongside the jewelry she already makes for everyone else.
I'm enjoying my new family (though the younger set are a bit loud and rather... exuberant) and they seem quite fascinated with me (which I must admit, is rather flattering). I currently am spending the majority of my time at the bead table, reading and listening to Alasdair Fraser or Ingrid Michaelson. I am still quite put out that Jenn did not take me to see Ingrid Michaelson when she went earlier this month, but she promised to take me when she goes again in April! I am hoping by then she will have created a more fashionable outfit for me... and more jewelry of my own.
It is bedtime for the girls now, the youngest is in bed, I had best go help Jenn get them into bed. I look forward to sharing my world with you... and perhaps I will even give you glimpses into my past as well.
Reach for the stars always...
~Stella